About Steal Network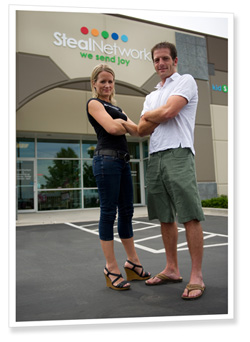 Shopping sometimes feels like stealing when you find a great product at a steep discount. Grabbing a deal from an e-commerce site - one which also offers boutique-quality products, zealous customer service, and lightning-fast shipping - might feel downright delinquent. Steal Network, home of the Steals.com family of websites was founded on the motto "we send joy," and prides itself on delighting online visitors daily.
Since launching on April 28th, 2008, Rett Clevenger and Jana Francis have consistently kept Steals.com a profitable company without one drop of investor capital or loans. Parent company Steal Network's headquarters in Salt Lake City, houses both offices and a fulfillment center focused on sending joy with same-day shipping. Steals.com is a unique blend of ecommerce and online media that delivers top-quality brands and products one day at a time to their online communities of women through the websites BabySteals.com, ScrapbookSteals.com, KidSteals.com, and SheSteals.com. Their tagline "it's not just a deal, it's a steal" reinforces that deals online are just a click away, but the Steals.com experience encompasses amazing hand-picked and curated products, fast shipping and personal customer service. Millions of orders later, Steals.com employs more than 63 people in Utah and 70% of their staff are women.
Learn about Steals.com founders Jana Francis & Rett Clevenger
When Rett Clevenger hears the word "mogul" he envisions a backcountry ski run with powder so deep you need a snorkel. Rett is an accomplished mountaineer and will jump at the opportunity to go whitewater kayaking, wind surfing and nearly anything that gets adrenaline flowing. He doesn't wear a business suit and doesn't think of himself as a mogul.
After receiving his B.A. in Marketing from the University of Idaho, Rett found himself managing, building, and marketing web sites within multi-channel environments for Northwest River Supplies and Coldwater Creek. Eight years later, he was recruited by Backcountry.com and moved to Utah to be their online media manager. During his four years there, not only did he build his outdoor gear stash, his team increased revenue 534% from $9.1 million to $58 million - generating a combined total revenue of $88 million. Not bad for a ski junkie from a little town in North Idaho.
At a pinnacle where he could see the blizzard of opportunity, Rett co-founded Steal Network.
His track record for creating innovation has grabbed the attention of Google and other mountainous companies. Rett is always up for a challenge and develops vertical growth with each project he tackles. As an adventurer, Rett faces opportunities with a tactical aggressiveness, yet he's humble enough to understand the value of collaboration and teamwork.
Rett was recognized as a Finalist for Ernst & Young Entrepreneur of the Year in 2012 and 2013.
Rett lives in Park City, Utah with his wife and three children.
When Jana Francis walks in the door, heads turn. This 5'2" spunky dynamo is a triple threat. She's raising three kids, running a multi-million-dollar startup company, and charming everyone she meets - from finicky new mommies to the most brilliant of engineers at Google. Jana has a hard working, tough-as-nails attitude, coupled with a down-to-earth honesty and charisma.
Before founding Steal Network, Jana spent her career specializing in advertising and marketing for technology and internet companies in Silicon Valley, California, and for KSL, the largest media company in Utah.
Jana's motivation to start her own company came on her drive back to her corporate job after maternity leave with her latest baby. Her love of online deal hunting (her friends called her the "dotcom princess") and her quest for finding the most sought-after baby products at steep discounts were the catalysts for a new kind of website. Only having $5,000 in savings, a burning ambition to succeed and 18 months of planning, she partnered with Rett Clevenger and created Steal Network. In April of 2008, with her seven plus years of broadcast media experience and Rett's e-commerce experience they launched BabySteals.com, the first website in the Steal Network family. Six months later she left her 12-year career in the corporate world for good.
Jana has partnered with some brands to create customized offerings just for Steals.com customers. The Jana Bag by The Bumble Collection is the best selling diaper bag that BabySteals.com has sold, and Pretty Fierce, a workout DVD filmed with Lindsay Brin of Moms Into Fitness the most popular fitness program that they have sold.
Jana and Rett were Utah Finalists for Ernst & Young Entrepreneur of the Year for 2012 and 2013, and Jana was one of Utah's 30 Women to Watch for 2013. http://www.youtube.com/watch?v=7_Izn1_frqg
Raised in Park City, Utah, Jana now lives in Salt Lake City with her husband and three lively kids. She is passionate about fitness, gardening, cooking, and is also an outdoor recreational fanatic. She pours her whole self into everything she takes on and does it all with irresistible zest.
You can follow Jana in social media here:




More videos and stories on Jana and Rett here: