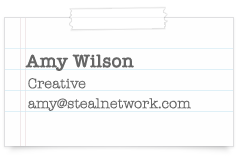 1. Hometown
Plano, Texas
2. Do you have any kids/pets?
Three drunken monkeys
3. What do you like most about working for Steal Network?
I get to use my brain — after being a stay at home mom for seven years and telling my kids how fab their poop is. Sooo fun.
4. What's your favorite food?
Peanut butter, hands down. I'll love it until the day I die.
5. What do you like to do when you have free time?
I dream about being a soulful back-up singer in the 60's. I can't sing or dance.