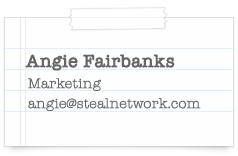 1. Hometown
Boston, Massachusetts
2. Do you have any kids/pets?
I am a mom to one furry baby, a boxer pup named Daisy.
3. What do you like most about working for Steal Network?
It's so inspiring to be a part of such a forward-thinking, innovative company that truly has the best interest of our customers at heart. Plus, it is a major bonus that I get to work with a positive,, creative team that works as hard as they play.
4. What is your favorite vacation spot?
There is no possible way I could pick one place because I love to travel way too much. For me, the best vacations are those where you come home sore and tired having seen and experienced as much as possible. That being said, my top favorite places I have been so far include Croatia, Peru and Italy.