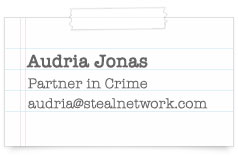 1. Hometown
Salt Lake City, Utah
2. Do you have any kids/pets?
Palmer, age 12, Hannah, age 9, and Bridger 10 1/2 mos
3. What do you like most about working for Steal Network?
How incredibly awesome and friendly everyone is here.
4. What's your nickname?
Ahh-juwah (Weird, I know. My nephew had the hardest time with Audria) :)
5. What's your favorite vacation spot?
My favorite vacation spot is a actually a place I cannot disclose. There is a free-flowing river, lodge-poll pines, willows, and wildlife. I can tell you it is a very magical place with campfires and fairies, a place where we are reminded how lucky we are to have such an amazing family.