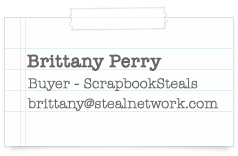 1. Hometown

West Jordan, UT
2. Do you have any kids/pets?

I have three kids — two boys (8 and 6) and one girl (3)
3. What do you like most about working for Steal Network?
There are so many wonderful things about working for Steal Network! Just to name a few: I work with the coolest and sweetest group of ladies around! Everyone is so kind, genuine, and happy; plus, they're always willing to help each other out. We have the best customers around. I enjoy "meeting" and becoming friends with so many fun people who have so much passion and enthusiasm for our brand! Our bosses are amazing , too. We have the empowerment (and are encouraged!) to make our customers happy. Being in such a positive environment puts a spring in my step!
4. What do you like to do in your spare time?
In my free time I love to craft it up. Scrapbooking is one of my passions, and I've made so many dear friends through my hobby! It helps me unwind and de-stress.