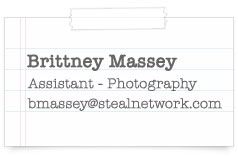 1. Hometown
I was told I was born under a Rock
2. Do you have any kids/pets?
No kids yet, I had one of those "Grow a Pet" sets. You know the kind you put in water and they grow up to 10x their original size. Mine was a dog named Ziggy, but I gave him too much water and he died.
3. What do you like most about working for Steal Network?
We are a bowl of mixed nuts. If you are sliding a big box to its home in the warehouse and biff it hardcore and there was no one there to laugh at you/with you...we say things like " don't worry, we will just find it on the surveillance tapes and watch it over and over." We have great fun here at Steal Network. Just in case any one is wondering, I didn't get hurt when I biffed it.
4. What's your favorite food?
Gluten Free Cupacakes from Elenaors Bakery in Sandy
5. What do you like to do when you have free time?
I enjoy hiking, snowboarding, rock climbing, animals, spending time with my family & friends, Netflix, cooking, and making shadow puppets in my apartment. I love photography. Oh! Did I mention I enjoy long walks on the beach, too?