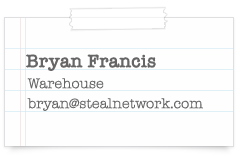 1. Hometown
San Jose, California
2. Do you have any kids/pets?
I have two daughters. A four-year-old and a six-month-old.
3. What do you like most about working for Steal Network?
I love being part of a cutting-edge company that is doing things that no one else is doing. Being able to wear costumes at work is pretty cool too.
4. What is your favorite vacation spot?
My favorite vacation spot, so far, would have to be Kauai, Hawaii. It is a beautiful island and it is quiet and relaxing.