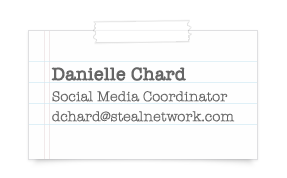 1. Hometown
Morgan, Utah
2. Do you have any kids/pets?
I don't have any kids, but I do have what I'm pretty positive is a human trapped in a cat's body.
3. What do you like most about working for Steal Network?
Everyone is so passionate about their work and is incredibly positive. It's a great feeling to be excited to go to work!
4. If you could meet someone famous, who would you want to meet and why?
Easy. Michael Bolton. And do you even need a reason? Just watch one of his music videos and you'll fall in love too.
5. What is your favorite vacation spot and why?
Disneyland! I like to watch the fireworks while riding the Matterhorn and wearing my Mickey ears and eating a Dole whip. (I go all out.)