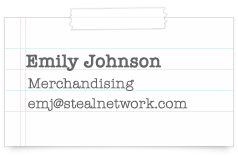 1. Hometown
Sandy, Utah
2. How many kids do you have?
Two crazy kids: Ryker (four), who is a total sweetheart, and Lydia (two), who is ball of sass! Both are models for a living...okay so not really, but their gorgeous faces grace the BabySteals and KidSteals pages quite often.
3. What do you like most about working for Steal Network?
I love that our meetings feel like hanging out with college roommates! They are usually full of giggles, sarcasm, treats, oh yeah, and some work too. Meetings are often full of energy as we plan the rockin' steals and special promotions we know our fans will go crazy for — we get just as excited planning as our fans do when we unveil them.
4. Where did you meet your spouse?
My hubby and I started dating the summer we turned 16. Like a real life version of The Cutting Edge, he was a hockey player and I was a figure skater. We met at the ice rink and have been inseparable since.