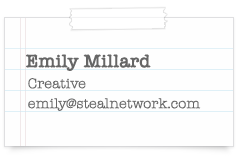 1. Hometown
Salt Lake City
2. Do you have any kids/pets?
Elliott, Cade, and Ruby.
3. What do you like most about working for Steal Network?
The hours. If I need to run out to help on a pre-school field trip I know I can make up the work later in the day — like midnight to two am, when Jana is online. I am happy to finally have a job where the designs I create are done the way I want them to be done. I always love the final result.
4. Where did you meet your spouse?
I was in the parking lot of my apartment building, he was riding by on his bmx bike. This happened when I was twenty-six, not six.
5. What's your favorite food?
Tacos, tacos, or tacos. Also tacos.