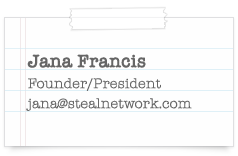 1. Hometown
Park City, Utah
2. Do you have any kids/pets?
Three really cute ones — including the famous Jane, who has grown up in front of the BabySteals/KidSteals camera.
3. Why do you like working for Steal Network?
Because I'm the boss, that's why!
4. What's your best parenting tip?
Don't sweat the small stuff.....and it's all small stuff. You are the best parent your child could ever have — be it.
5. What do you like to do when you have free time?
Bake, cook, garden, organize, and hang out with my BFF's
6. What is your favorite vacation spot and why?
High in the mountains, or on a secluded Caribbean beach