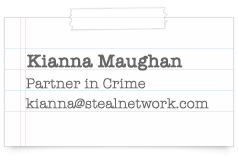 1. Hometown
Riverton, UT
2. Do you have any kids/pets?
I have a two year old boy.
3. What do you like most about working for Steal Network?
Everyone here loves their job. So much so, that it seems weird to even call it a "job." It really is the best place ever to work!
4. Where did you meet your husband?
I met my husband in high school and it was love at first site — literally! I think I schemed all year just to walk past him in the halls and to be an aide in his basketball class. We never did date, we were just friends. I ended up finding him on good old MySpace five years after we graduated. (I created an account just to message him.) The story unfolded from there!