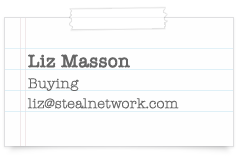 1. Hometown
Sandy, Utah
2. Do you have any kids/pets?
No kids yet! But I am trying out my caretaking skills on my dog, Bear. He is an adorable Airdale mix that I adopted several years ago. He loves playing with my mom's Miniature Dachsund—they are definitely the odd couple!
3. What do you like most about working for Steal Network?
I love the exciting, fast-paced environment at Steal Network! It is great to be around fun, innovative people whose animated personalities always keep work interesting.
4. What do you like to do with your free time?
As boring as this may sound to some, I love to organize — it is very therapeutic for me! I do also like to exercise, read, and create (clothing and crafty things). I am always looking to learn and I like to stay productive.