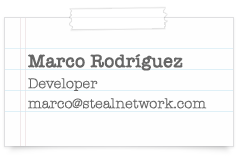 1. Hometown
Costa Rica
2. Do you have any kids/pets?
I have a strong seven-year-old boy and a beautiful five-year-old girl.
3. What do you like most about working for Steal Network?
What I like the most about Steal Network is that there is always room for improvement. No matter how well we do the first time, we strive to do better the next.
4. What is your favorite vacation spot?
My favorite spot to go on vacation is Park City, Utah...but, only during the summer! Costa Ricans are not used to cold weather so, it is a bit hard for me to get used to the snow. Taking a hike in the mountains or swimming at Jordanelle are part of my dream vacation.