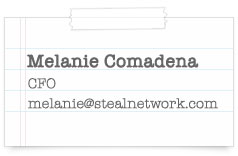 1. Hometown
I grew up in Clarkston, Utah and now live in Nibley, Utah
2. Do you have any kids/pets?
1, but #2 will be here in March.
3. What do you like most about working for Steal Network?
The people! We have an incredible team of people who pull off amazing things on a daily basis. It is fun to be a part of something so amazing!
4. What's your favorite food?
Depends on the day........ usually anything a 5 year old likes, cold cereal, mac n cheese, pickles (even when I'm not pregnant)
5. What do you like to do when you have free time?
Play with my little girl or read a good book.