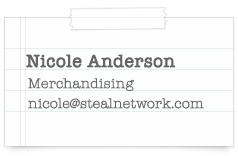 1. Hometown
Salt Lake City, Utah
2. Do you have any kids/pets?
I have two children — a girl and a boy, plus one fur baby.
3. What do you like most about working for Steal Network?
I love our community. Being successful at work, and at home, is an incredibly difficult balance to strike. Everyone here, co-workers and awesome fans alike, feed that success with positive momentum. It's completely fulfilling to be able to bring a little joy just by doing what comes naturally.
4. What's your best parenting tip?
Go with the flow. What's upsetting today will be gone tomorrow, and new challenges will take their place.