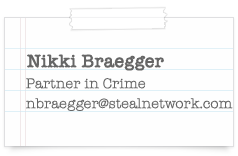 1. Hometown
Brigham City, UT
2. Do you have any kids/pets?
I have two girls. Brighten is three and Teagan is two years old.
3. What do you like most about working for Steal Network?
I love working for a company that I truly feel passionate about!
4. What's your best parenting tip?
My best parenting tip is not to wish your parenting life away. Find joy in the small and difficult challenges of parenting. I'd love to go back and enjoy the struggles a little more.