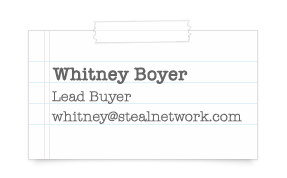 1. Hometown
Tucson, Arizona
2. Do you have any kids/pets?
3 four-legged, furry ones...for the time being.
3. What do you like most about working for Steal Network?
The people. From my amazing colleagues to the fantastic vendors I have the pleasure of working with everyday, I have met some of the best people through my place in this company.
4. Where did you meet your spouse?
Where did you meet your spouse? My husband, Jon, and I met at a dog park in Greenlake, Seattle, where we lived prior to moving to Salt Lake City. The first time we met we talked for hours and our dogs became best buddies. Almost a year later, Jon proposed to me on the same bench where we had our first conversation. Both dogs are still doing well, and are still inseparable (much like their mom and dad).

5. What is your favorite vacation spot?
I lived in the Dominican Republic for a little over a year, and to this day, it is my happy place. I've lived in several countries, and many beautiful places, and the D.R. holds a special place in my heart. When I step off the plane there, my stresses melt like coconut oil, my inner voice begins speaking Spanish, the tropical breeze fills my lungs, and the people warm my heart. It's my favorite spot, vacation and otherwise, and I truly believe I will end up back there one day.